free online videos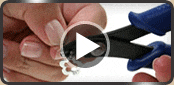 (407) 370-2929
Email:
sales@beadwholesaler.com

Dramatic is the only way to describe these earrings. The pieces pack a punch with the burst of colors from the Swarovski Rivoli and Drop crystals. And they are so easy to make too.

To make these earrings, begin by gluing the Rivoli crystal into the Rivoli holder with the E6000 and set aside. ***Be sure to follow the directions on the container***! Next, take the pinch bail and attach it to the Drop crystal pendant. Once you are satisfied that the glue is set on the Rivoli, you are now ready to put the earrings together.

Take one of the open jump rings and connect the earring post to the one end of the Rivoli segment. Take another open jump ring and attach the pendant to the other end of the Rivoli segment. Repeat the entire process for the second earring. That's it.

You now have a beautiful pair of earrings that will surely get you noticed.

List of Components :
1 Vitrail Light - 24x12mm Swarovski Almond Shape Pendant [6100-24VL]
1 EARRING-Post Earring Component, Antique Silver Finish [P1054SA]
1 Vitrail Light: 14mm Swarovski (No Holes) Rivoli [1122-14VL]
1 JUMP RING-6x5mm Oval Silver Plated [P0018SP]
1 11mm Teardrop Sterling Silver Pinch Bail *New Item* [SF1009]
1 LINK - 12mm Beaded Rivoli Holder Bright White Bronze Plated [P3119WB]
1 50 Pairs, Large Comfort Clutches by TierraCast, Soft Clear Rubber Earring Backs, 01-0012-03 [SF1537]