free online videos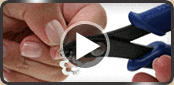 (407) 370-2929
Email:
sales@beadwholesaler.com
Channel Birthstone Charms

Silver Plated and Gold Plated Charms are ideal for making personalized birthstone jewelry. These are an inexpensive way (as low as 36.6 cent per charm) to add high quality faceted Swarovski birthstone color crystals to your jewelry be it silver tone or gold tone.
These are also known as Swarovski 57700 or 157700S29TO 1128 6mm Swarovski Channel Drops.

Our Swarovski Crystal Channel Drops Birthstone Charm enhances personalized stamped jewelry and charm bracelets. Add Swarovski Crystal Drop Charms to your hand stamped pendant.

These are also available in: Crystal AB, Light Rose, Light Sapphire, and Jet.

You can buy these in a variety of ways from small quantity of a birthstone color up to as much as you like of one birthstone color. More you buy and more you save and we do carry a large stock of these.

We now carry Swarovski birthstone channel links such as also. These are also known as Swarovski Birthstone connectors.

We carry a huge selection of related items. Be sure to checkout our our Sterling Silver Bead Chains, Sterling Silver ump Rings, Silver Filled Jump Rings, Gold Filled Jump Rings, Base Metal (Silver plated, Gold plated, Antique Brass, Antique Copper) Jump Rings
.