free online videos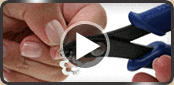 (407) 370-2929
Email:
sales@beadwholesaler.com

BeadWholesaler.com is the E-Commerce website of Eagle international of Longwood, Inc.
Eagle International has been in WHOLESALE beads and findings business since 1992 and is based in Orlando (World's leading tourist destination), Florida. With over 10,000 products we can easily claim to be the largest bead supplier in Orlando area. We supply beads to customers all over the world. We have excellent international shipping rates from Fedex.
We believe in Quality Merchandise, Competitive Prices, Prompt Shipping and personalized customer service. Our buyers are constantly looking for merchandise for you across the globe. We also bring to you "Made in USA" products whenever possible and carry a large number of Made in U.S.A. products.
Beadwholesaler has a showroom/Warehouse in Orlando, Florida. Please visit us on your next trip to Orlando, Florida!
Our address:

4370 L. B. McLeod Road
Orlando, FL 32811
Telephone: 407-370-2929
Email: sales@beadwholesaler.com

Spot your favorite Beadwholesaler Team Member is these pictures.