free online videos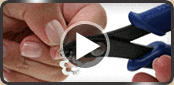 (407) 370-2929
Email:
sales@beadwholesaler.com

******** PLEASE NOTE THAT WE HAVE MOVED TO 4370 L. B. McLEOD ROAD, ORLANDO, FL 32811. It is very close (0.7 mile) from John Young Parkway exit on I-4) . It is in building next to International Food Club). Plaza is marked with "HILTI" and is also known as Park 33 Business Center ******

Thank you for your interest in visiting our warehouse/showroom. Please note that showroom visits are by appointment. Minimum purchase at the showroom is $200.
Our showroom is primarily a stock warehouse to fulfill the e-commerce orders. Most of the items displayed on the walls may not have any pricing information or if they have price written on them they may not be up to date. We go by the pricing shown on this website.

If you are an existing customer then you are already familiar with the merchandise we carry. If you are a new customer then we suggest that you spend some time on this website and get familiar with the kind of merchandise we carry and their pricing before planning a visit to us. We also encourage you to make a list of items you are interested in purchasing. This will help make your visit more productive.

We do have lot of new merchandise that has not been added to the website. So if you are visiting Orlando from another country or city/state, this would be a great opportunity to visits us, get to know us and our merchandise. We will do our best to make your visit as productive as possible!


We are closing out some of our older product lines such as incense sticks (Sandalwood, Nag Champa etc), some incense burners, brass (bronze) statues of Natraj, Shiva, Ganesha, Hanuman, Saraswati and more. If you are interested in any of these you may be able to purchase these at bargain prices......

Please call us at 407-370-2929 or email us at sales@beadwholesaler.com to make your appointment. We are generally able to provide the same day appointment.